Varnish 6 By Example Book
Varnish 6 By Example is the official Varnish 6 book, written by Thijs Feryn, the Technical Evangelist at Varnish Software.
The book has 778 pages and covers all things Varnish. As the name suggests, the book is very example-driven and contains hundreds of VCL examples. Most of the content is written for Varnish Cache users, but there's also plenty of content on Varnish Enterprise features.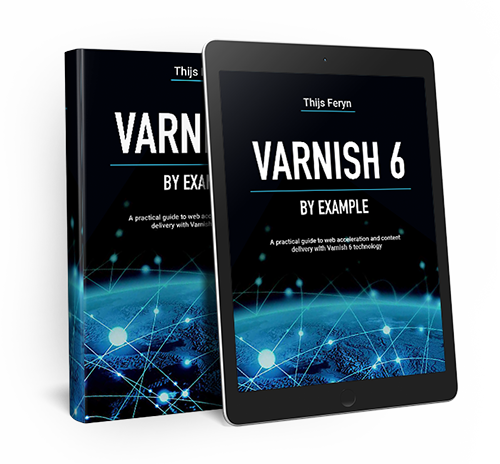 Download the PDF version of Varnish 6 By Example → Buy a physical copy of Varnish 6 By Example →
Topics & scope
Varnish 6 By Example caters to the needs of various audiences:
It is written for absolute novices who have no experience with Varnish.
It is also for developers looking to improve the performance and scalability of their web applications.
The book features a dedicated operations chapter for sysadmins, DevOps engineers, site reliability engineers and anyone else tasked with Varnish operations.
The book contains content for decision-makers who are looking to rethink their content delivery strategy.
Although Varnish 6 By Example respects the roots of the Varnish project by focusing on web acceleration, it has the ambition to go beyond the original use case and features the following topics:
Building private CDNs
Accelerating OTT video streaming platforms
5G multi-access edge computing
API acceleration
Authentication gateways
Get your copy
The fastest way to get a hold of the book is by downloading the PDF. Click here to sign up and get the free PDF version.
You can also buy physical copies of the book. Click here to buy it on Amazon. The ISBN number is 9189179978.
Download the PDF version of Varnish 6 By Example → Buy a physical copy of Varnish 6 By Example →